ADAP is pleased to invite you to its conference-debate: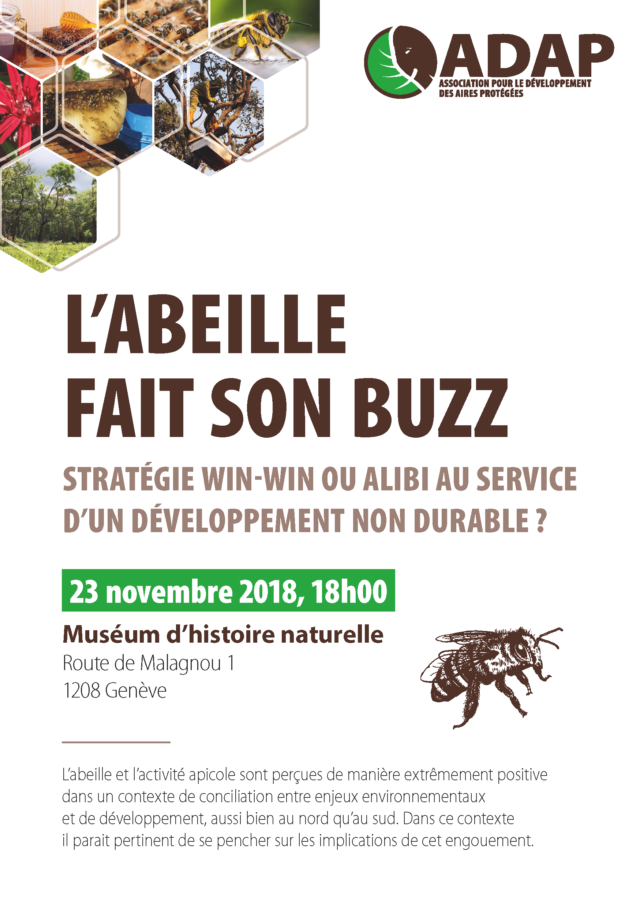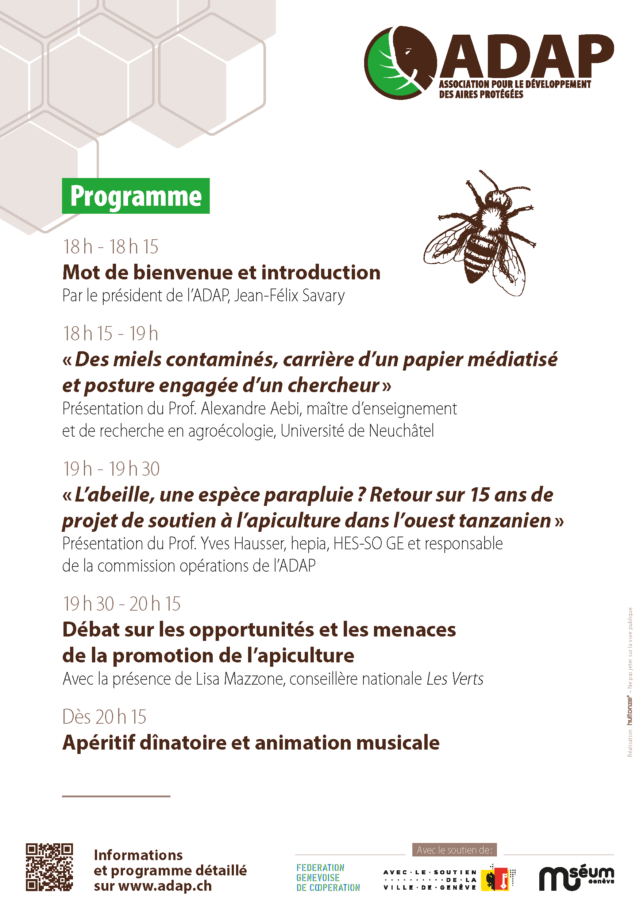 After a word of welcome from ADAP President Jean-Félix Savary, Prof. Alexandre Aebi's presentation will focus on the role of bees as sentinels of the environment through the analysis of pesticide residues, particularly neonicotinoids, in honey samples from around the world (more info here). The reactions that followed the publication of the results in the journal Science reveal the hidden issues behind an extremely positivist discourse on beekeeping. They also question the role of the committed, even militant scientist in a world dominated by economic issues.
Prof. Yves Hausser's presentation will focus on the opportunities for the promotion of beekeeping, retracing more than 15 years of support per project to an association of Tanzanian beekeepers (more info here). This assessment will reveal the complexity and challenges related to this activity in the context of developing countries. The presentation will focus in particular on presenting the bee as an umbrella species for natural ecosystems and the species they support in a context of rapid change. The support provided questions the expert postures of cooperation officers and identifies a number of barriers and challenges to the sustainability of an experience that has proven its positive effects.
A round table discussion will then take place to allow a constructive discussion about the threats and opportunities of promoting beekeeping, both in the North and in the South. The speakers at the round table will be Alexandre Aebi and Yves Hausser, Lisa Mazzone, National Councillor Les Verts, Pascal Crétard, President of the Geneva Beekeeping Federation and Denis Ruysschaert, Doctor of Sociology and Agricultural Engineer, Vice-President of SWISSDAID. The moderator of the debate will be Juliet Fall, Professor and Director of the Department of Geography and Environment at UNIGE.
The evening will end with a dinner aperitif to network and explore some of the issues raised during the presentations or debate. The SOGA group will animate this friendly moment with its traditional Malagasy music.
Come in large numbers!
(free conference, without prior registration)
Access map to the museum here