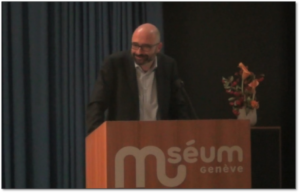 The conference room of the Natural History Museum was full! The audience from all walks of life came in large numbers despite the heavy rain that night in Calvin's city.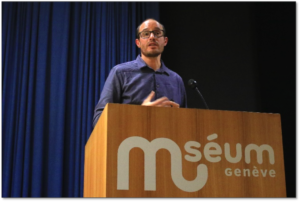 The speakers were introduced and the President, Jean-Félix Savary turned the floor over to the speakers. The first presentation, led by Professor Alexandre Aebi, dealt with his article on the presence of neonicotinoids in honey found across the globe. It had been published in the journal Science and encountered many unexpected difficulties and pitfalls following its publication. From more or less direct attacks to surprising challenges from colleagues and industrialists alike, Professor Aebi gave us a straightforward and implacable vision, drawn from his personal experience, of a reality often ignored by scientists themselves.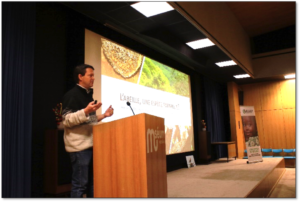 The next presentation was given by Professor Yves Hausser, who took the audience on a journey to Tanzania by taking a look back at more than 15 years of conservation and support for local community projects in the Mlele region. Pragmatic and with his long field experience, Professor Hausser shared with us the successes (increasing the quantity and quality of honey while preserving the forests), the limits (should we move to a selection of African bees?) and the challenges ahead for this project (population growth, strong pressures on the forests, relations with the State). We also learned the preconditions that allowed this conservation and development success achieved, based in part on an analysis of the context, the construction from an existing base, the definition of objectives with the beneficiaries and a supervision of the practice after the training.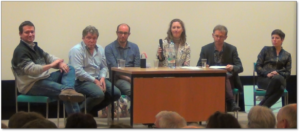 The third item on the agenda was a debate. Orchestrated by Mrs. Juliet Fall, the speakers were passionate and exciting. From local action to lobbying, from agriculture to inter-governmental politics to the vast questions linked to an ever more present globalization, no level of reflection escaped the incisive analyses of the speakers presented that evening. The debate in fact showed how the two previous presentations were linked by the same political and economic issues. The very question of the limits of our western models of cooperation was addressed without taboos, opening up and fueling the debate on broader issues, particularly those relating to our social choices.
The conference then ended with questions from the audience, and the evening continued with an "aperitif" dinner, a friendly moment animated by the traditional Malagasy music group SOGA.
ADAP would like to thank in particular Ms Juliett Fall, Ms Lisa Mazzone, Mr Denis Ruysschaert and Mr Pascal Créttard for their presence and their interventions during the debate and Mr Alexandre Aebi for his quality presentation.
You can find the transcript of this conference in its entirety and the debates that followed here.