Specialized, annual training by the Education for Sustainable Development (ESD) project prepared future teachers to develop environmental skills. The project also offered primary schools to create practical activities in market gardening, beautification and re-greening, hygiene, and knowledge of nature.
AREAS OF INTERVENTION
Education, environmental conservation
MAIN PARTNERS
Ecole Nationale des Enseignants du Primaire de Fada N'Gourma (ENEP), Haute école du paysage, de l'ingénierie et d'architecture (HEPIA), Planèt'ERE Burkina Faso, Association "Courir pour Aider", Swiss Agency for Development and Cooperation (SDC).
CONTEXT
Poverty and strong demographic growth mark the Sahelian country Burkina Faso in West Africa. Burkina Faso also suffers from severe conditions like recurrent droughts, desertification, etc., worsened by climate change and loss of biodiversity. With the alarming degradation of its environment, Burkina Faso has recognized the urgency of raising awareness of environmental issues, and of existing measures to achieve sustainable management of its natural resources.
The teaching program Education for Sustainable Development (ESD) in Burkina Faso is appropriate and a priority. Appropriate because the troubled east of the country has enjoyed partnerships with the Swiss Agency for Development and Cooperation (SDC) for more than thirty years. And a priority because the lands of the provinces of Gnagna, Gourma, Komandjari, Kompienga, and Tapoa concentrate the country's most important biodiversity. Addressing environmental issues and managing natural resources are all the more essential for these provinces currently under strong pressure from agricultural expansion (the rest of the country has been almost exhausted).
PROJECT DESCRIPTION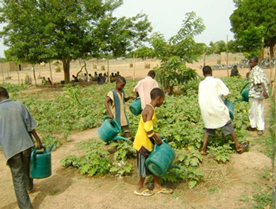 In 2005 ADAP decided to develop an ESD project in eastern Burkina Faso, in response to a local initiative from the National School of Primary Teachers of Fada N'Gouma (ENEP). This initiative's overall objective was to contribute to the promotion of environmental education. This project with its awareness, information, and training-in-environmental education (EE) components is in line with the environmental education action plan for the basic education sub-sector. ADAP saw this as an opportunity to address two major challenges for the promotion of more sustainable development: improving the living conditions of the project's beneficiaries, and maintaining an environmental balance.
In 2006, interviews and documentary research in cooperation with the main institutions that had experience in ESD enabled an inventory and a critical synthesis of the ESD approaches in Burkina Faso. Based on this inventory and the reference literature, a teaching program was implemented with the directors of ENEP. The program has been offered to ENEP staff and teacher students of the 2007 and 2008 classes.
Currently, the project wishes to pursue its initial objective and continue to train teacher students. The plan is to simplify the initial training manual's content and better adapt it to the capacities of the teacher students and their regional context. Primary school pupils will receive additional educational sheets that accompany the training manual to benefit as much as possible from this teaching program. All this should thus allow future teachers to transmit the knowledge they have acquired during their training. Finally, activities should be developed in 14 test schools located near the wildlife conservation areas to increase awareness of environmental protection among their students. These activities will be designed according to the conditions (access to water, available land, etc.) and the needs of each school, and should help improve living conditions within them. This project targeted pupils, pupils' parents, and the local communities.
Information exchange with the local communities helped the project identify four suitable, major sectors to pay attention to:
Beautification and re-greening
Market gardening
Hygiene
Knowledge of nature
OBJECTIVES

Intervene more actively in the regions of Burkina Faso, located near conservation areas to raise awareness of ecological issues
Promote more eco-friendly behavior among all primary school children in Burkina Faso
Promote more eco-friendly behavior among their families, and communities
RESULTS
Two new flocks of teacher students (approx. 850 persons/year) received training, based on the new version of the teaching manual, during 2009/2010 and 2010/2011.
Additional, educational material has been created and made available to teachers leaving ENEP, to pass on their knowledge of environmental protection to primary school students more easily.
The activities developed within the 14 test schools are easily identifiable. They raised students' awareness of environmental protection and improved living conditions in schools.
The enclosures or the exteriors of the schools are embellished with flowers. Each school has a hedge, a grove, or any other form of reforested area that marks its space. The school canteen menus have been enriched with products from the garden. The pupils wear clean clothes, the classes are cleaned, the drinking water is carefully contained in a closed and airtight container, and the toilets are washed with disinfectants every day. The pupils have acquired new knowledge about nature, they can identify certain animal and plant species and they are aware of their usefulness and the importance of their preservation. Last but not least, the pupils' parents and the neighboring local communities have shown interest in the activities developed in the schools.